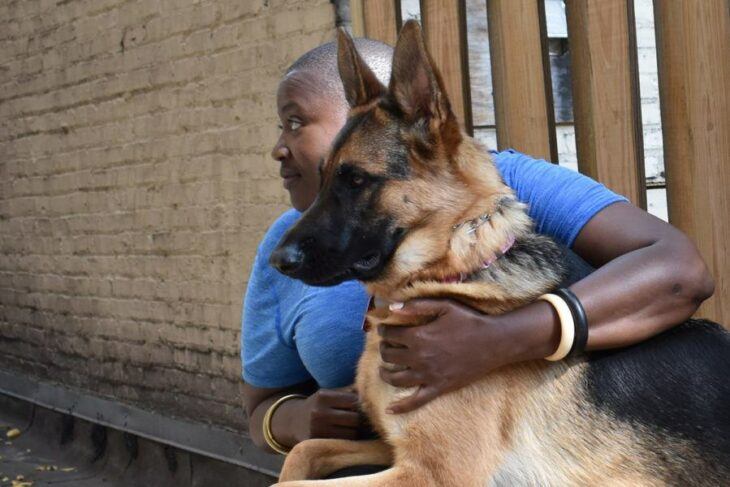 Simone's Story
"My dog helps me navigate my emotional and physical life. Touchstone helps with everything else."
Simone heard the explosion. She smelled smoke, saw rubble, dust, and injured people. She was shocked by the bombing, but quickly stepped in to help others. A few weeks later, Simone left her family in East Africa, and was on her way to college in the Twin Cities. After graduating, she married and made Minnesota her home.
Life was good for Simone, until 9/11. Like all of us, she was upset, but it also brought back her memories and feelings from the bombing. Simone was later diagnosed with Post-Traumatic Stress Disorder (PTSD). Two years ago, her symptoms became debilitating. "I had no money since I wasn't working. I was so anxious and depressed that I didn't set foot outside my apartment door for six months," she said.
Simone was on the brink of losing her housing. She finally went to see her doctor and was hospitalized for PTSD and depression. Simone was referred to Touchstone for housing and mental health support. Her psychiatrist also recommended an emotional support dog. Within months, Simone received a donated dog, named Arwen. Touchstone staff helped her access housing and basic needs funds for dog training, so Arwen could stay in her apartment.
Simone's life has improved in the last year because of her dog, Touchstone staff, and peer support. "I used to be isolated, but now I see my providers and I'm outdoors six times a day with my companion dog. I went from walking 20 steps a day to 6,000," she said.
"My dog helps me navigate my emotional and physical life and Touchstone helps with everything else," she said. "I thought nothing could help me, but I'm living life now, even with PTSD and depression."
Simone is just one example of our work to meet each person's unique needs. We provide support for basic needs, mental health, and housing for 2,000 people each year.
Join us in helping people, like Simone, have hope for their future.