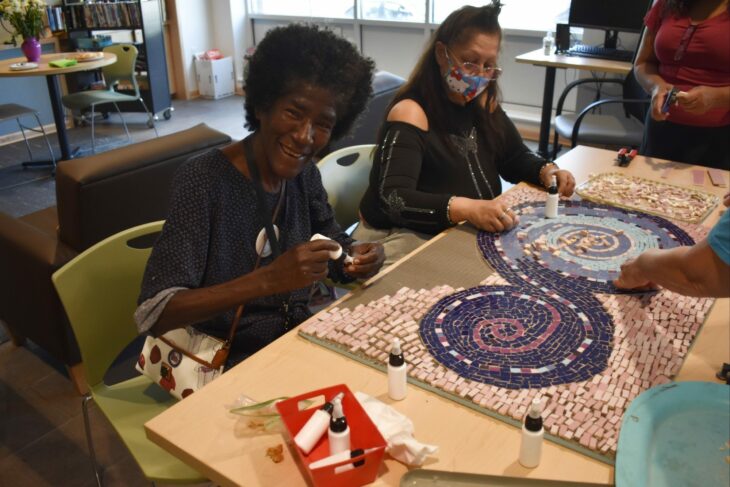 Mosaic Memorial at Minnehaha Commons
Artist Lori Greene of Mosaic on a Stick, is working with Minnehaha Commons residents, staff and volunteers in creating a mosaic in memory of the six people who perished in a fire on the site (formerly McMahon's Pub) in April 2010. The mosaic uses calming colors to symbolize healing for the family members, Minnehaha Commons residents and the community. The artwork is also a tribute to all people who have experienced homelessness. It will be installed in a common area at Minnehaha Commons.
Family members of the individuals who died in the fire were invited to Minnehaha Commons for a commemoration of the mosaic, and to learn more about the program. A family member compared Minnehaha Commons to a rising phoenix – emerging from catastrophe into something powerful. Another family member read a beautiful poem to honor their loved ones.
With Hope

This is not at all
How we thought it was supposed to be.
We had so many plans for you.
We had so many dreams.
And now you've gone away.
And left us with the memories of your smile.
And nothing we can say
And nothing we can do
Can take away the pain, the pain of losing you, but
We can cry with hope, we can say goodbye with hope
'Cause we know our goodbye is not the end.
And we can grieve with hope 'cause we believe with hope,
There's a place where we'll see your face again…
-Steven Curtis Chapman