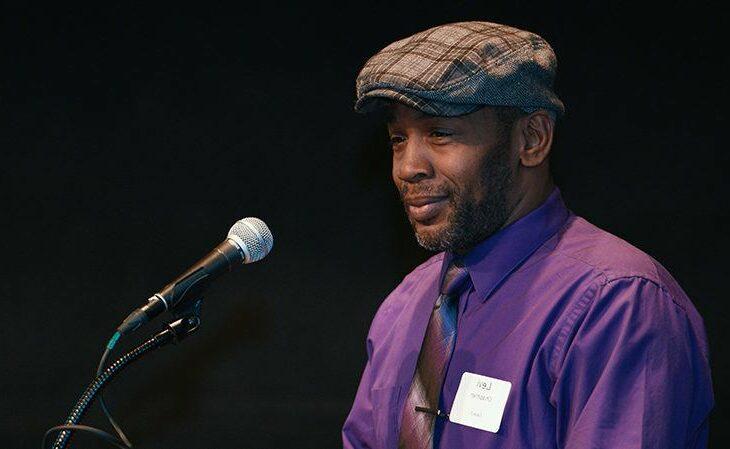 Levi: Healing Through Community
Levi never had a stable life – he couldn't keep a job, had difficulty with relationships, and struggled with mental illness since he was four.  Once, after an argument with a friend, Levi became upset, and cut his own face with a knife to cope with his emotions.  He was hospitalized, and when discharged had no place to stay.  Levi was on the streets – homeless for three long months, eventually finding Touchstone's Intentional Communities Program.
He received a rental subsidy through the program, had help finding an apartment and participated in weekly group meetings.  Levi said, "The meetings were my first experience being part of a community. I listened, learned from others, and opened up about myself for the first time."
Once Levi had a home, he started writing poetry and creating visual art.  He says, "I'm always working on a project. I have learned to express my emotions and feelings through my art and poetry."
Now, Levi's life is stable. He has friends and has lived in his apartment for eight years. "I'm so thankful for Touchstone," he said.. "I've learned to be patient. I can talk about my needs and I'm there for others."
Levi has written three poems for Touchstone fundraising events, including, Inspire, for Touchstone's 35th anniversary.
Inspire
Listen to the words as I attempt to inspire,
We all came together with a built-in desire.
The platform is set for this Touchstone theme,
Assisting their clients with a livelihood scheme.
Mental Health diagnosis and treatment is on the rise,
Paranoid thoughts have tears rolling down my eyes.
A delusional belief separates wrong and right,
Prepare yourself for this mental illness stigma fight.
Honesty and trust electrifies all of the wires,
Empathy and compassion, keeps you inspired.
— by Levi in honor of Touchstone Mental Health's 35th Year Anniversary