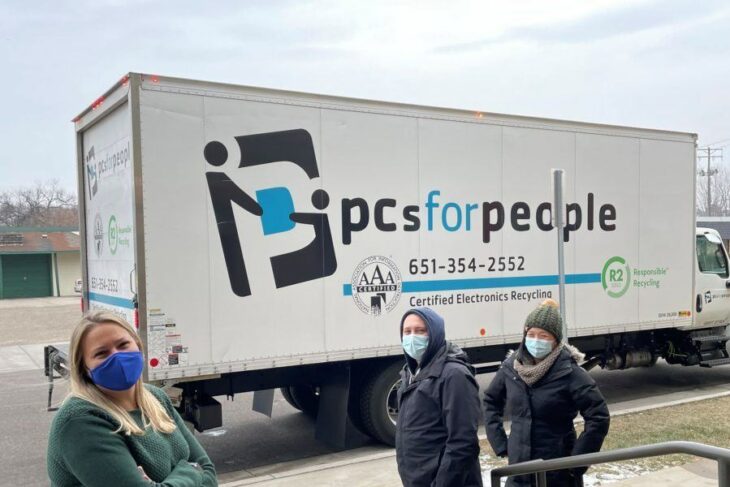 Touchstone partners with Hennepin County and PCs for People to eliminate the digital divide
Thanks to Hennepin County and PCs for People, Touchstone received 250 laptop computers in December 2020 to distribute to clients who live in Hennepin County.
This event is part of the Hennepin County's broader effort to break down digital barriers that were starkly illuminated during the COVID-19 crisis. People of color were often the first to lose their jobs and had the fewest technology resources – laptops and internet access – to seek or apply for jobs, maintain their education or see their doctor through a telehealth visit. The county is using CARES Act to bridge this divide. See Connecting Hennepin at www.hennepin.us/tech to learn more, including some free or low-cost resources.
"Job hunting, distance learning, and keeping medical appointments today in this crisis requires computers and internet. It's that simple," said Ellie Skelton, Executive Director. "We appreciate Hennepin County's effort to help people who are facing the greatest disparities in jobs, income, education and health."
"Hennepin County is leveraging CARES Act funding to help county residents who haven't had computers or internet to remain home and continue seeking jobs, learning or consulting with their medical provider. Now, more than ever, technology is critical for all families," said Hennepin County Acting Director of Education Support Services Chela Guzmán-Wiegert.
The laptops will be distributed by PCs for People. "It's our mission to provide individuals and families with the life-changing benefits of owning their own computer," said Mary Lucic, Community Outreach & Fundraising Manager for PCs for People. The new laptops come with a year of free technical support from PCs for People.
The county and its community partners are identifying people for this program and enrolling them. Key criteria are lack of technology and someone in the family job hunting, distance learning or needing to maintain connection with their doctors.
For future distribution events, please see www.hennepin.us/tech.