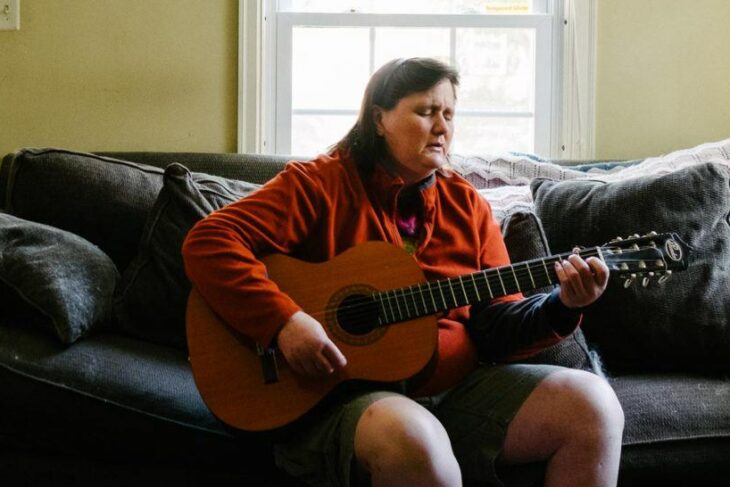 The Power of Support and Hope
Deb was given a guitar in kindergarten – she carried it around for decades – but never learned to play. It wasn't until her first treatment when she finally picked it up.
She started to understand the power of her words and music and she realized she found her gift. "It took me many years to realize music and writing were a gift, but once I did, I started using creativity  as a way to deal with painful situations." she said. "There's nothing better than seeing people laugh, cry and connect with my writing. Especially when they are going through possibly the lowest times in their lives­ and are desperate for hope."
With her background in psychology, sociology, and anthropology, Deb was always keenly observant of others, and began writing poems and songs for those she met during treatment. "Everybody needs to have that thing that's special about them pulled out and noticed," she said. "Everybody needs to feel special and cared about."
She learned writing for others was also healing for herself. "I didn't know it, but when I thought I was giving a gift to other people with a poem or a song, I was actually giving myself a present because I looked at everybody as an individual and saw what was special about them."
These days Deb is still using her music and writing as tools for her own growth, in helping others, and creating a path for her future. "It's been a learning process," Deb said thinking back on her experiences. "If you are too focused on the negative in life you can't be good for yourself or others." She's working with her Case Manager at Touchstone to explore how she might continue to help people and further her journey by becoming a Peer Specialist.
"Although it's taken years for me to get here, and to find the strength for forgiveness, I know I'm a better person than any one of the people that ever hurt me, and I'm a survivor." Deb proudly said.
This powerful piece is something she wrote as a way to take back her power and say to those who hurt her: "You're not in charge, I'm in charge."
You can have all of my yesterdays
My endless trail of tears
You can have all my sad memories
My doubts, my pain, my fears
You can have my sadness and my unrelenting shame
You still deny the part you played but it happened all the same
But you can't have my spirit, and you can't have my soul
It's my chance to be happy, it's my choice to be whole
So go ahead and live your life, 'cause I'm ready to live mine
And in the end, you'll still suck
But me, I'll be just fine