Nature Based Therapy
Connection to nature is essential to our health and well-being. Nature Based Therapy (NBT) connects the healing powers of nature to support people in their physical, mental, social, and emotional health. NBT Services include therapeutic horticulture and animal-assisted support that provide opportunities for people to explore mind, body and spirit through plants, animals and nature.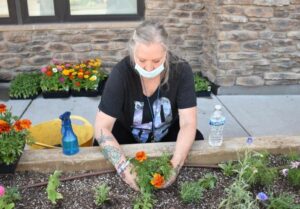 Touchstone has partnered with the University of Minnesota to bring NBT to people in our apartment programs for seven years. Pictured are residents planting flowers and herbs at Rising Cedar.