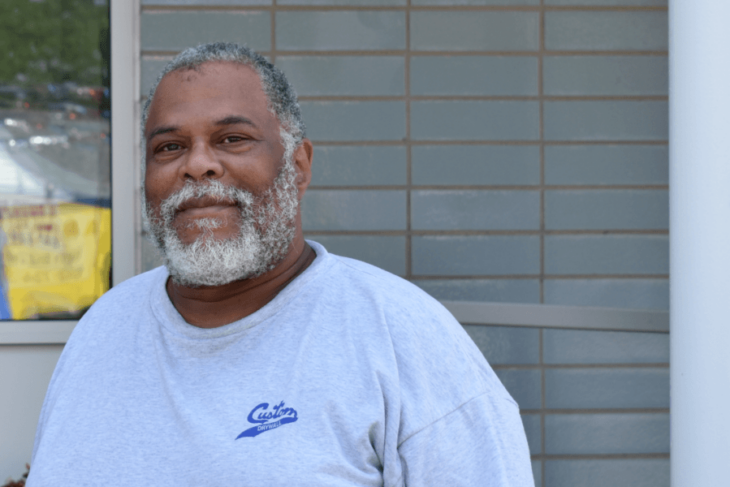 Ken's Story
When fires and unrest occurred on E Lake Street last May, Ken was worried about his new apartment at Minnehaha Commons. He made sure protesters knew that "people live here," so no one would harm the building.
Ken was one of the first tenants to move into Touchstone's new supportive housing program, Minnehaha Commons, in November 2019. He keeps a close watch on the building, residents, and staff. "I like to watch over the building and make sure everyone's doing OK." When Touchstone asked for food donations, Ken was there to help carry boxes and distribute food. He likes to help wherever he can.
Before moving into Minnehaha Commons, Ken spent the last thirty years in shelters and on the streets, moving back and forth between Kansas City, Milwaukee, and Minneapolis. When his housing fell through, he would move again and start over. "I must've stayed in every shelter in the Twin Cities. Some of the neighborhoods were full of violence and drugs. I needed to get out of there," said Ken. He was determined that one day he would have a place of his own.
Because of his age and health, Hennepin County prioritized him for an apartment, but his phone did not work, so Touchstone staff could not reach him. However, they were able to contact his brother in Kansas City to let him know an apartment was waiting for him at Minnehaha Commons.
Ken had been homeless for a long time, so he was skeptical about Touchstone and the possibility of having a home. "I checked out the apartment and the neighborhood before I met with anyone." He met several times with Touchtone staff in public libraries to learn about the program and complete paperwork. He started to trust staff and decided to give it a try. "I thought, this will work," said Ken.
He moved into Minnehaha Commons with a furnished apartment and received household items through Touchstone's partnership with Bridging. He needed a new bed because of a sciatic nerve condition. Touchstone staff used our Basic Needs Fund to find the right bed for him. "The bed is so comfortable. I have to stay off the bed or I'll fall asleep right away," he said.
Ken wants to work toward his longtime goal of getting his GED. He's excited that he received a computer from Touchstone's partnership with Hennepin County and PCs for People. Now, he can enroll in an online GED program.
Ken has lived in his apartment at Minnehaha Commons for over a year. "I appreciate my apartment, Touchstone staff and services. They help me clean my apartment and take me to the grocery store and food shelf," said Ken. "This is a great place to live."