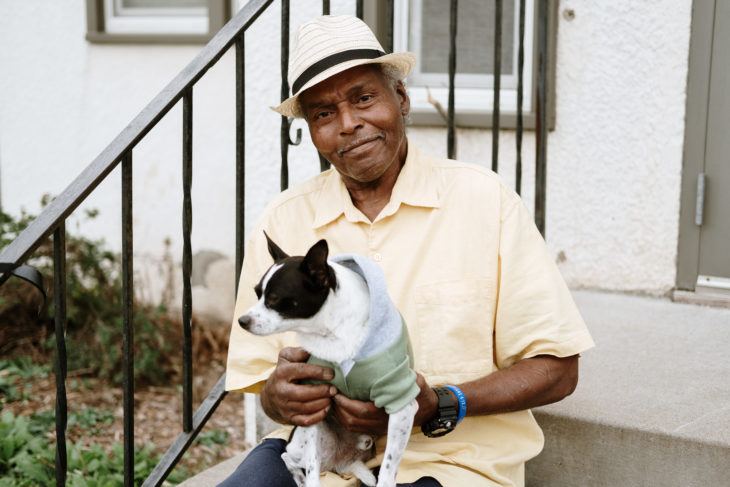 Meet James
James is a friendly, kind-hearted person who adores Billy, his three-legged dog. He loves to help others, and every Sunday, he visits people who are homebound and checks to see if they need food. James is involved in his church and says the members are a big support for him.
James has come a long way in his mental health recovery. He is doing well now, but in the past, it was different. He lived a rough life in Chicago where he was involved in gangs, addicted to opioids and alcohol, and spent time in prison. Later, James moved to Minneapolis to have a fresh start. Everything was going well until his wife died, then his world fell apart.
James was depressed, then he lost his job and his housing. He stayed with a friend, who told him about Touchstone. "I was suicidal, drinking heavily, and taking drugs," he said. "Touchstone saved my life. They didn't give up on me. If they had, I might have died. I started drug treatment and my life turned around," said James.
Our housing staff found him an apartment and advocated with the landlord to lease with James, despite his history of being in prison. "Touchstone helped me get an apartment, a rental subsidy, and supported me every step of the way," he said. "I meet with my staff on a regular basis. She helps me make good decisions about my money and helps with the ups and downs of life."
Billy is an important part of his mental health recovery. When James experiences anxiety, he worries that Billy is sick. Our staff offers support and helps him figure out if there may be anything else he is worried about, which happens often. When he needed to be hospitalized and later intubated for COVID-19, our staff found a place to board Billy. "I was relieved that Billy was going to be OK. Then I could rest and take care of myself," he said.
James is thriving in his mental health recovery and has been living in the same apartment for 10 years. He is grateful for his life, his apartment, Touchstone, and his faith.