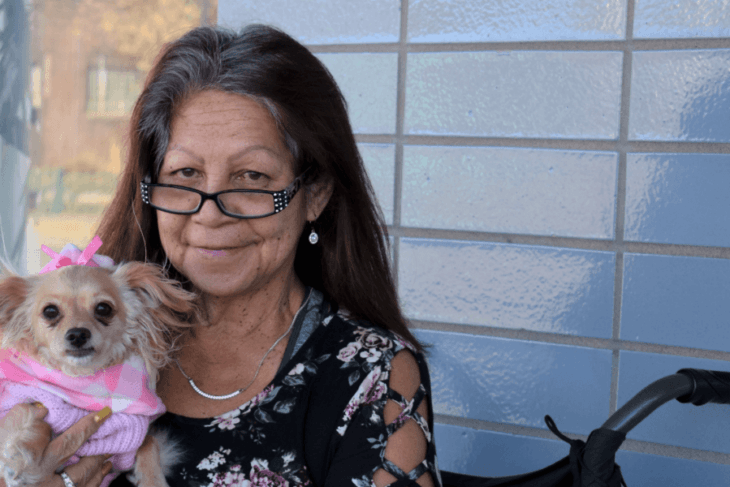 Donna's Story
Donna is glad to be in Minnesota, but she had a long journey to get here. She is an Indigenous Hawaiian and lived on the islands most of her life. After her 36-year marriage ended, she had no money and nowhere to live, so she slept on the street or on the beach. "Hawaii is so expensive, I couldn't afford to buy food," she said.
Donna and her boyfriend moved to the mainland, stopping in Reno, to see her son. While visiting, she had a serious heart attack, and spent seven weeks relearning how to walk, speak and eat. She received a service dog, Cha Cha, trained to alert her at the sign of a heart attack or stroke. Cha Cha has been a great help, but she still had several strokes and heart attacks in recent years.
"Living in a tent wasn't easy," said Donna. "It was so hard for me to get off the ground. The encampment was a dangerous place." Within a few weeks of living in Powderhorn Park, Donna went into cardiac arrest. She had no where to go when she left the hospital, so she went back to the park.
"Thank God for Touchstone," said Donna. Our staff met her when she was at her lowest point. "I was so depressed. I wanted to kill myself," she said. Our staff told her she was eligible for an apartment and services at Minnehaha Commons. They helped her with verifications and paperwork, and she was able to move in just three weeks.
"I just saw my first snowfall. It was cold, but so pretty," said Donna. "I love Minnesota. The people are nice, and I can buy a lot of groceries with my limited income." Donna stays in touch with her six children and twenty grandchildren through Facebook and Instagram. "We all love football and have fun cheering for different teams, she said."
"I really like my new apartment," says Donna. "Touchstone staff help me manage my medications and doctor appointments, keep up my apartment, and take me grocery shopping. The staff are wonderful – they are like family to me."
"I love my new life," says Donna.
There are so many people like Donna, with no home, no place to go, and have mental health and medical conditions. Touchstone is helping people find a home and receive the support needed to keep their housing. Our programs help people move from homelessness and our services support and build their stability. Last year, our staff found housing for 55 people, like Donna, who experienced homelessness.
Unfortunately, the need for housing services and supports is greater than our capacity. Our staff receive phone calls each day, asking if there are openings in our housing programs. It's so hard to tell someone there is a waiting list.
Your gift helps people have a home and services to support their needs, so they can live well in their community.