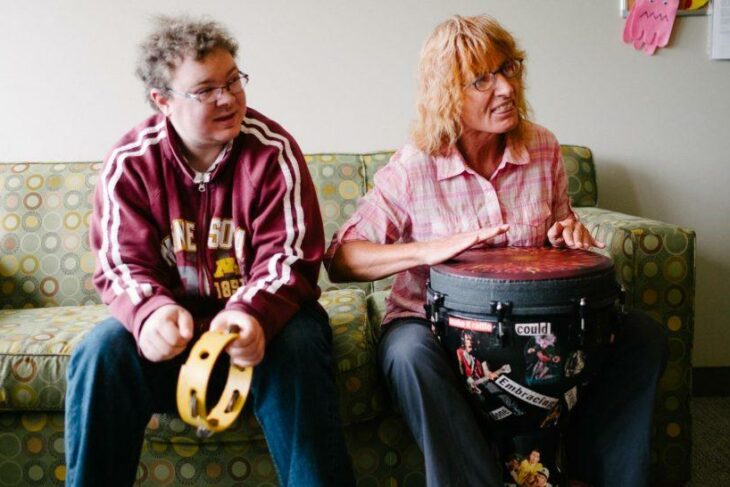 Aroha Philanthropies Partner Spotlight: Touchstone Mental Health
Russell is 30 years old and holds a degree in Biochemistry and Genetics from the University of Minnesota. He has been diagnosed with Schizoaffective Disorder Bipolar Type, and Fibromyalgia, derailing many of his future plans.
He first accessed Touchstone Mental Health (Touchstone) in the fall of 2012 and was living in a group home prior to moving into Touchstone's Rising Cedar Apartments (Rising Cedar). Rising Cedar opened in 2013, and features 40 one-bedroom apartments and a Community Health and Wellness Center (CHWC). After becoming a resident at Rising Cedar in November 2013 and using the CHWC, Russell is putting his future plans back on track. As Russell states, "Living at Rising Cedar allows for an active lifestyle that would otherwise be beyond the reach of people who live here. The many activities and the attached Health and Wellness Center are very nice. The building is lovely and the garden, calming."
One aspect of Russell's recovery is the one-on-one work he does with his counselor, Mary. "My counselor at Rising Cedar is nice and works hard. She helps with many things from opening my mail, setting up appointments, to helping me feel better when I am depressed. I have a close relationship with my counselor so she is able to speak to me on a level I rarely find with psychologists or other mental health professionals," stated Russell. As for Mary, "I love 'doing life' with residents. Seeing them on a day-to-day basis, their struggles and triumphs, I can see the difference all of our work makes." Jessica, another staff member, has known Russell since before he moved into Rising Cedar and has witnessed the amount of progress he has made. Jessica states, "Every time a resident opens up their life to a counselor or staff member, it is a gift. I value Russell's ability to allow me to affect his life and willingness to share his experiences with me."
Aroha Philanthropies is proud to support adult residential mental health organizations like Touchstone and is honored to have participated in the campaign to build Rising Cedar. Touchstone makes such a significant positive impact on people like Russell and allows them to live as independently as possible.
"Touchstone/Rising Cedar is a very accommodating and understanding place to live," said Russell.
---
Thank you to Aroha Philanthropies for their support and wonderful partner spotlight originally featured on their website. Learn more about Aroha Philanthropies.